CSA 2023
Please donate or pledge today. (Click here) THANK YOU!
Our Goal: $56,164.00
Amount pledged/donated to date: $17,001.75
Number of donors: 67
Amount to reach our goal: $39,162.25
"Do not neglect to do good and to share what you have, for such sacrifices are pleasing to God".
NEW: Young Adult Ministry Facebook page
Welcome to the Official Page of St. John Paul II Young Adult Ministry at St. Mary, Our Lady Queen of Families- Center Line, MI!
Mission: To be a community of young adults who are the future of faith in light of the living Gospel of Jesus Christ.
Vision: We envision to be a community of young adults that are:
- United in Christ through the sacraments, worship, and camaraderie.
- Missionary disciples of Christ by extending our boundaries to reach others and leading them to Christ.
- Available and willing to serve the parish community in different ways possible.
Please join us as we walk this life faithful in God's call to holiness.
Contact us for more details.
Parish Year of Eucharistic Revival begins June 11, 2023

WHAT IS THE ARCHDIOCESE OF DETROIT DOING?
The more we love someone, the more we wish to get to know them. Likewise, the more we know them, the more our love for them grows. This is the key for our relationship with God. We come to know the Father through Jesus the Son, who is truly present to us in the Most Holy Eucharist. Don't miss out on the ways you can grow in love of God throughout this year of Eucharistic Revival.
We encourage you to make use of these resources created and designed specifically for families, priests and deacons, and parishes and schools. Each section will continue to grow as we add new opportunities for prayer and study.
Christ in the City young adults hit streets to tell the homeless they are loved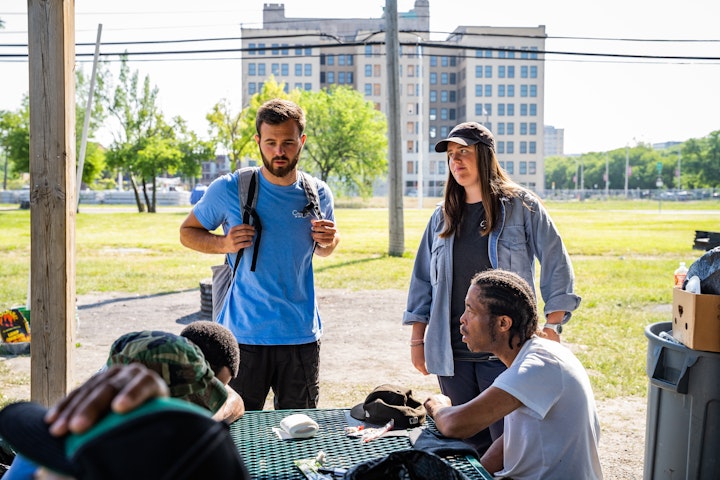 (Detroit Catholic) DETROIT - If loneliness is the greatest affliction facing Detroit's oft-forgotten homeless population, then Christ in the City is providing an antidote.
Through the Denver-based apostolate, young adult missionaries seek out and find the friendship of homeless individuals in cities across the country by building a series of relationships as they walk the city streets.
Pope admitted to hospital for abdominal surgery
(Vatican News) Pope Francis is admitted to Rome's Gemelli Hospital where he will undergo abdominal surgery on Wednesday afternoon. He is expected to remain in hospital for some days to allow for full recovery.
Office Hours
PARISH OFFICES
~Church Office
~Cemetery Office
~Religious Formation Office

Monday .....9:00am - 3:00pm
Tuesday .....9:00am - 7:00pm
Wednesday .....9:00am - 3:00pm
Thursday .....9:00am - 3:00pm
Friday .....closed

ST CLEMENT CEMETERY
Open every day .....9:00am - 4:00pm
Mass Times
DAILY MASS
Monday.....8:30am
Tuesday....8:30am
Wednesday ...No Mass
Thursday .....8:30am
Friday .....8:30am

WEEKEND MASS
Saturday.....4:00pm
Sunday.....9:00am .....11:00am

CONFESSION
Saturday ....3:00pm

ADORATION CHAPEL
Open 24/7 .... please come to the office for the door code



Add St Mary Our Lady Queen of Families Parish to you Kroger Account to donate to our church, click here
St Clement Cemetery
Cemetery office.... 586.757.3306 x 303
Mailing address: 8075 Ritter, Center Line, MI 48015
Click here for pricing & availability
Click here for directions to St Clement Cemetery
Click here for a Burial Search
FRIENDS OF ST. CLEMENT CEMETERY Facebook page.
Alcoholics Anonymous
AA meetings are held in the conference rooms in the church office (2nd floor). Please enter in the rear of the building by playground. (8075 Ritter, CenterLine)
Wednesdays ... 6:00pm
Fridays ... 7:00pm
Sundays ... 7:00pm
St Clement High School Records
St Clement High School records and transcripts are stored at the Archdiocese of Detroit Archives...
12 State Street
Detroit, MI 48226-1823
ph. 313-237-5846
fax 313-596-7199
[email protected]