Mary: A Biblical Walk with the Blessed Mother

"Mary: A Biblical Walk with the Blessed Mother is an extraordinary pilgrimage that reveals Mary's unique role in God's kingdom and in our lives. Filmed on location in the Holy Land, Mary: A Biblical Walk with the Blessed Mother will place you in the midst of the powerful drama of her earthly life, taking you through her joys … and her sorrows. You will learn how she works in our lives today, drawing us ever closer to her divine Son. Seeing Mary in this way will change you forever. Mary will become a part of your daily life, and in your daily life, you will become more like Christ. " ~Program description, ascensionpress.com
Full color workbook available to purchase for $27, but not nessessary to participate. If you wish to purchase the book, please let us know when you sgn up.
Sessions: January 9th thru February 27th. Eight sessions, each including a 30 minute video presentation by Dr. Sri.
Sign up by calling the office 586-757-3306.
CSA 2022
"As each has received a gift, use it to serve one another, as good stewards of God's varied grace." ~ 1 Peter 4:10
Our goal for 2022 is... $ 58,356
Amount pledged: $54,734.30
Report of 184 Pledges from 180 Givers
Amount to reach our goal: $3,621.70
Detroit Priestly Vocations Discernment Group
The Office of Priestly Vocations' discernment group for men (18-55) considering the priesthood is having its next meeting on Wednesday, December 14, 2022 – 7:00-8:30pm. New members can join at any time, as there is no requirement to have been at the last meeting. The previous nights have been a great success with many men excited to talk about their possible vocation to the priesthood.
Meetings are led by Fr. Craig Giera, Director of Priestly Vocations, and will include prayer, group discussion on discernment, light refreshments, and fellowship with other like-minded men. Please contact the vocation office for more info: detroitpriestlyvocations.com/discernment-groups/.
Archbishop Vigneron celebrates Solanus Center's 20th anniversary, blesses expansion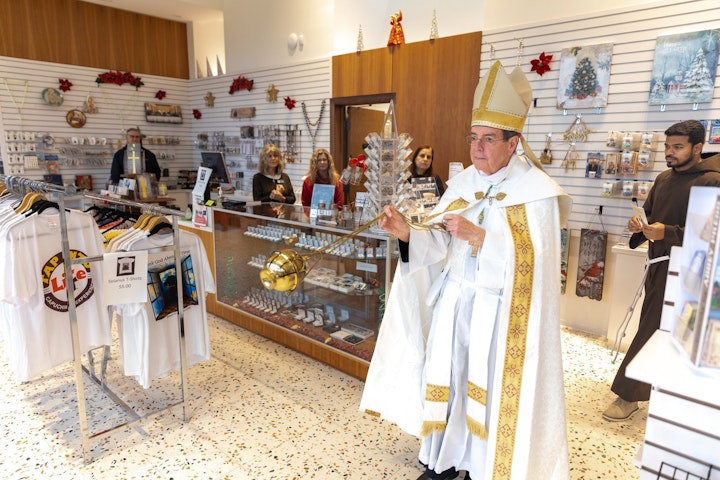 (Detroit Catholic) DETROIT — For two decades, Detroit's near east side has hosted a place of spiritual refuge and pilgrimage for thousands, dedicated to the life and legacy of the city's first beatified saint.
On Dec. 3, Detroit Archbishop Allen H. Vigneron celebrated the 20th anniversary of the Solanus Casey Center with a special liturgy and blessing of several new additions, including a gift shop, confessionals, office space, café and outdoor prayer space.
Pope at Angelus: Mary helps us preserve our beauty from evil
(Vatican News) During the Angelus on the Solemnity of the Immaculate Conception of Our Lady, Pope Francis invites Christians to entrust themselves to Our Lady, reminding us that Mary, the only human creature without sin in history, is with us in the battle, and she is our sister and Mother.
Office Hours
PARISH OFFICES
~Church Office
~Cemetery Office
~Religious Formation Office

Monday .....9:00am - 3:00pm
Tuesday .....9:00am - 7:00pm
Wednesday .....9:00am - 3:00pm
Thursday .....9:00am - 3:00pm
Friday .....closed

ST CLEMENT CEMETERY
Open every day .....9:00am - 4:00pm
Mass Times
DAILY MASS
Monday.....8:30am
Tuesday....8:30am
Wednesday ...No Mass
Thursday .....8:30am
Friday .....8:30am

WEEKEND MASS
Saturday.....4:00pm
Sunday.....9:00am .....11:00am

CONFESSION
Saturday ....3:00pm

ADORATION CHAPEL
Open 24/7 .... please come to the office for the door code


Simply shop at smile.amazon.com/ch/45-5393590 and AmazonSmile will donate to St Mary Our Lady Queen of Families Parish, at no cost to you.
St Clement Cemetery
Cemetery office.... 586.757.3306 x 303 [email protected]
Click here for pricing & availability
Click here for directions to St Clement Cemetery
Click here for a Burial Search
FRIENDS OF ST. CLEMENT CEMETERY Facebook page.
AA meetings are held in the conference rooms in the church office (2nd floor). Please enter in the rear of the building by playground. (8075 Ritter, CenterLine)
Wednesdays ... 6:00pm
Fridays ... 7:00pm
Sundays ... 7:00pm
St Clement High School Records
St Clement High School records and transcripts are stored at the Archdiocese of Detroit Archives...
12 State Street
Detroit, MI 48226-1823
ph. 313-237-5846
fax 313-596-7199
[email protected]